5 Pool Maintenance Basics
Having a highly-functioning, beautiful pool requires some maintenance. Whether you are maintaining a pool yourself or hiring Guarino's Pool Service, it is good to know the basics of keeping your pool well-maintained. So, let's familiarize you with some pool maintenance basics to keep your pool equipment operating effectively and the pool's interior looking its best.  As you'll see, maintaining a regular schedule for your pool will keep it sparkling throughout the season.
Empty the Skimmer Baskets
This is an essential step for any pool. By keeping up with removing debris that accumulates in the skimmer baskets, the pump will operate more effectively and will allow the skimmer to work properly by continually catching the debris that accumulates on the surface before sinking to the bottom of the pool.
Service the Automatic Pool Cleaner (Polaris or PCC2000) 
If you have a Polaris, remove it from the pool and empty the debris that it collects in the leaf bag. If you have a PCC2000 clean out the leaf canister on a regular basis.
Net the Surface
In some areas, wind will blow in some debris that will just float on the surface of the water. Small particles such as pollen, bugs, pine needles and other small plant life may be too small for the skimmer to pick up on its own, try to remove as much floating debris as possible so that it does not fall to the bottom of the pool.
Scoop Out Large Material
New England is infamous for wacky weather. In mid-summer, thunderstorms with strong wind and rain tend to roll through unannounced. Once the clouds clear up and the sun shines again, you may notice that branches, leaves, yard toys or even lawn furniture found its way into your pool. In autumn, foliage brings falling leaves and tree branches. The best way to remove both of these items is to remove furniture by hand and scoop smaller items out using a large leaf net.  When scooping out leaves, it is important to remain patient. If you have removed as much as you can see, stop scooping and come back to it later. NEVER vacuum out anything large that may clog your hose or your skimmer lines.
Keep your Pool Area and Deck Clean
Try to keep the area around your pool as clean as possible. This will help keep any material from blowing into the pool.  It will also make the surrounding area look just as nice as the pool, giving the backyard a little bit more of an inviting feeling.
Now, You Know a Bit About Pool Maintenance Basics
After following these steps, you will be well-versed in the basics of maintaining your pool. Additionally, vacuuming is the very best way to clean the bottom of a pool. If notice a lot of leaves or sticks, you may want to use a leaf net. If you have any questions or would like maintenance assistance, please contact us.
Massachusetts & New Hampshire's #1 Gunite Pool Builder
South Shore Gunite provides high-quality, worry-free, environmentally-responsible design, construction and maintenance services for all types of pools, spas and exotic waterscapes.
WHAT PEOPLE ARE SAYING ABOUT US
Our Work Brings Great Reviews
"They build a gorgeous pool. The finished product is exactly what I wanted. I came very close to working with another vendor as I did not think I could afford a quality Gunite pool. I quickly made the switch as SSG worked with me to customize a pool within my price range. Best decision I made and best pool ever! I am very happy with my decision"
– Susan L. | Facebook Review
"These folks did a great job building and finishing our pool. We also needed them to move the equipment after adding an outbuilding, which they did on time and on budget and without complaining! The service people are friendly, punctual, and very professional. Overall, an excellent customer experience."
– Frank I. | Google Review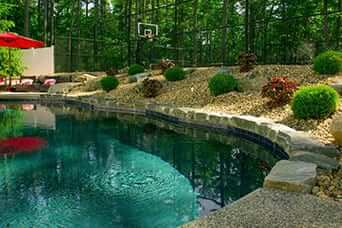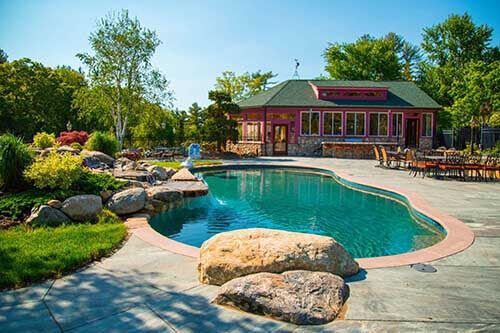 SERVING Massachusetts, New Hampshire, Rhode Island & NE
Contact South Shore Gunite
If you would like to schedule a consultation with our pool design team or you would like more information regarding new pool construction, pool renovation, pool service, water features or outdoor living spaces from South Shore Gunite, please feel free to contact us directly by calling 800-649-8080 or complete the form below.