Be aware that it has come to our attention that there is another company using SSG work and implying it as their own. If you see the same pictures images on our website as another one, please know that this is our work. SSG only uses imagery from own our projects. 
With a specialty in quick off-season pool turnaround, South Shore Gunite brings the element of fun and design to commercial pool projects. Consistent quality, craftsmanship, and unsurpassed customer service have been the maine reasons for our company's continued success. We've satisfied commercial builders and operators all over the eastern seaboard.
Commercial Pool Experience & Capabilities
We have quite a range Commercial Experience & Capabilities, having designed,
engineered, built and mainetained all of the following, and more:
-50 Meter Facilities
-Aquariums & Zoo Features
-Camp Grounds
-Colleges, Private Schools and High Schools
-Commercial Fountains
-Community Centers
-Condominiums, Apartments, Townhouses
-Country Clubs, Private Clubs
-Fitness Facilities
-Government/Military
-Hospital and Therapeutic
-Hotels, Vacation Resorts
-Municipal and Public
-Spray Grounds
-Water Features
-Water-parks
-Youth organizations
Making Customers Happy For Over 45 Years
"I just wanted to take a minute to thank you and your team for all of your help and guidance on the Big Blue Swim School project.  This was a very difficult project, with an aggressive schedule, and your team was always responsive and willing to do everything that was required to maintain the project schedule.  Your knowledge and experience was invaluable working through design and equipment selection. I look forward to building more of these together in the future."

– Todd Gainey, Project Executive 

Commercial Pool Services
We provide all levels of Commercial Pool Services, from the concept stage to completion and beyond:
-Concept and Design
-Engineered Shop Drawings
-Submittals & Permits
-Construction
-Excavation and Site work
-Piping – Steel – Gunite – Decking
-Mechanical Design and Installations
-Water Features
-Perimeter Gutter Systems
-Bulkheads and Competition Equipment
-Coping and Decking
-Interior Finish options
-Water Slides
-Winter Covers
-ADA Solutions Equipment
-Chemical Controllers
-Openings – Closings – Service
-Renovations
-Chemicals
Commercial Equipment Design & Installation
We offer commercial consulting, inspections planning, design, engineering, equipment restoration, remodeling and training for commercial facilities throughout New England.
The photos below will give you some examples of our handiwork with the installation and retrofit of filters, controllers, UV systems, meters, pumps, valves, safety upgrades and more.
Commercial Maintenance
There's no reason to trust the care and maintenance of your commercial aquatic operation to just anyone. SSG has a team of certified CPO, Tech I, and Tech II pool service professionals. We are always just a phone call away.
Whether Guarino's Swimming Pool Service (our in-house maintenance team) is used for weekly water balancing and cleaning, replacement equipment, leak detection, or chlorine alternative add-ons such as salt generators, Ozone, and ionizers, we have highly trained crews that are only a phone call away.
All of our Service Technicians are:
– Fully Trained, Qualified and Insured
– APSP Certified Service Professionals
– NSPF Certified Pool Operators
– Educated by top Manufacturers
– All SSG employees wear company uniforms and drive company trucks
Commercial Renovations
We've earned a reputation as the preferred contractor for commercial jobs throughout New England. Our highly-experienced commercial pool designers and renovators can save you tens of thousands of dollars in maintenance, repairs and operational costs. Check out our list of our commercial projects, or  view the gallery of some of our more recent commercial projects.
You may not know is that the laws and technology for pool construction and renovation have changed dramatically over the last few years. Equipment that was "cutting edge" ten years ago may be costing you three to five times more to operate compared to today's equipment, and practices that were acceptable just five years ago can now actually land you in jail.
Deck Repair / Replacement
Re-Plaster / Resurface
Tile repair / replacement
Energy-Saving Upgrades – Multi-speed pumps can pay for themselves in less than a year.
Chemical Management Automation – The pH / ORP systems can monitor the pool and make the adjustments for you, automatically, 24 hours a day.
Safety Inspections & upgrades / The Virginia Graeme Baker Pool Safety Act – This 2008 law affects all commercial pools. Fines for violations can exceed ten million dollars.
At SSG, we've stayed on the cutting edge of developments in our industry since 1975. So when you talk to us about commercial pools, you can rest assure you're working with a company that knows what they're doing.
New England's #1 Swimming Pool Builder 
South Shore Gunite provides high-quality, worry-free, environmentally-responsible design, construction and maintenance services for all types of pools, spas and exotic waterscapes.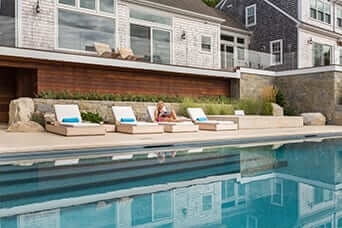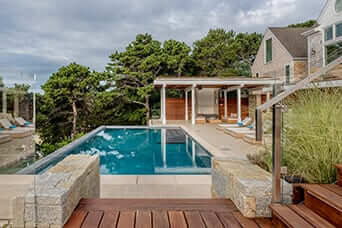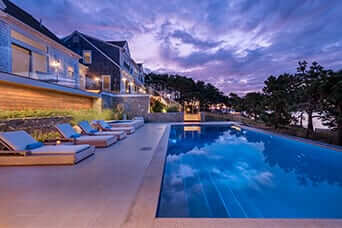 WHAT PEOPLE ARE SAYING ABOUT US
Our Work Brings Great Reviews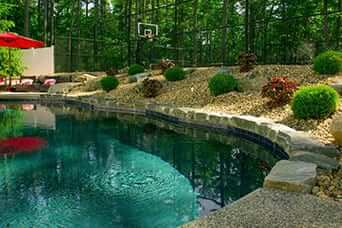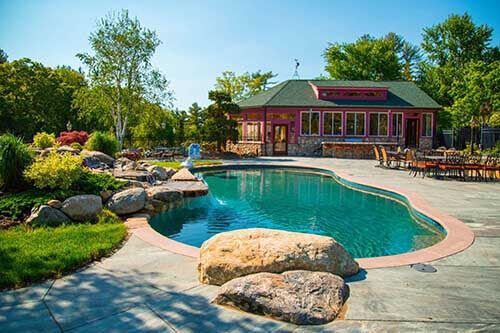 SERVING Massachusetts, New Hampshire, Rhode Island, maine and Vermont
Contact SSG Pools - New England's #1 Swimming Pool Builder
If you would like to schedule a consultation with our pool design team or you would like more information regarding new pool construction, pool renovation, pool service, water features or outdoor living spaces from South Shore Gunite, please feel free to contact us directly by calling 800-649-8080 or complete the form below.