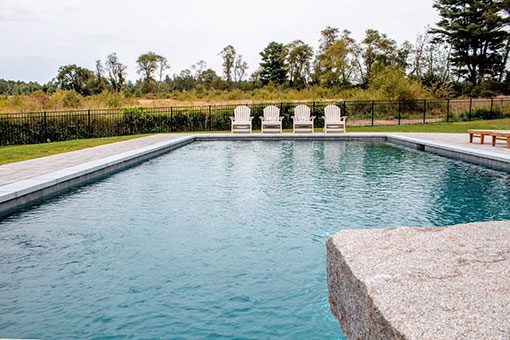 Award-Winning Swimming Pool Builder
Serving All Of New England
At SSG Pools, we have reinvented the pool building process. We refuse to outsource a single phase of construction on our pools. Serving all of New England, we are a Massachusetts pool builder offering building and maintenance services in both the residential and commercial sectors. We are proudly the largest pool builder in New England. On an average day, we dispatch 180 employees and 80 trucks.
From our humble beginnings in 1975, our company has grown exponentially. We are now recognized as the 14th best pool builder in the nation and 1st in the New England region by Pool and Spa News.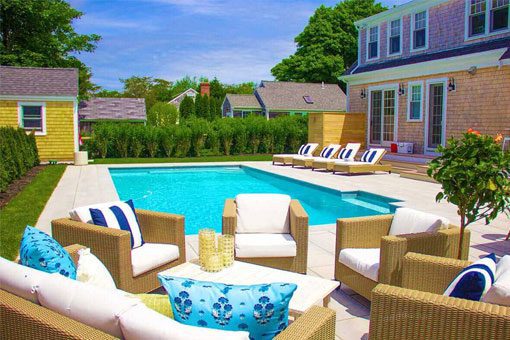 Your Backyard Oasis Awaits
Residential Pools & Spas
SSG offers complete pool design and construction services. All aspects of our design and construction are conducted by in-house employees. We have removed the uncertainty for homeowners about subcontractors and trust. Furthermore, having full control of the building process allows us to plan effectively and create the highest quality gunite swimming pool.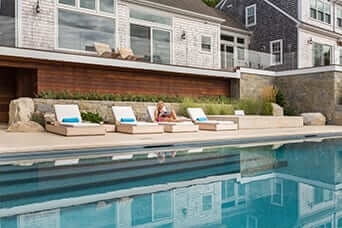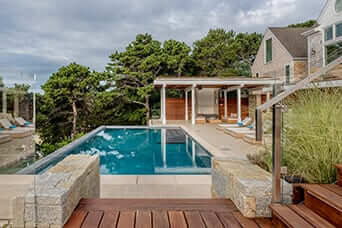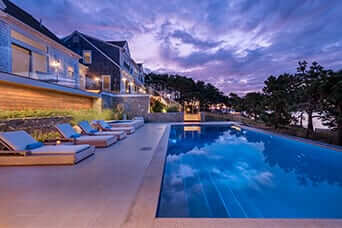 Turn Your Current Backyard Into An Oasis
Pool & Spa Renovations
If you are in need of pool renovations, you have come to the right place. Never before have there been so many options to improve the looks and efficiency of your existing swimming pool. In the last 10 years alone, more than a dozen new developments have made swimming pool ownership more enjoyable, less expensive and easier than ever.
Information To Assist You
Helpful Articles For Pool Buying & More
The basics of taking care of and cleaning your pool are not as complicated as they seem. Surely there is some higher level care that only...
What People Are Saying About Us
Our Work Brings Great Reviews
"We worked with SSG Pools for the installation of our gunite pool and deck. We found them wonderful to work with and the pool turned out spectacular. Stunning! It is a wonderful gathering space for our family and friends now. SSG Pools has a wonderful and skilled staff. Through the whole process we were in good hands and the pool they built was the one we dreamed about. I highly recommend this company and also love the lifetime warranty."
Danielle D. | Scituate, MA | Houzz Review
"On time and on budget. I have used South Shore over the last 10+ years on 2 pools I have, one at home the other at my vacation home . They repaired a major problems on one pool that other pool companies had been unable to fixed and they completely rebuilt a second pool starting in April and had the job completed and ready to swim by Memorial day. I also use them for weekly service to make sure things run well. In New England you get 3 months to really enjoy your pool why would trust anyone else."
Paul D. | Weston & Osterville, MA | Houzz Review
"The staff at SSG went above and beyond to make this pool happen for us, in the least stressful manner possible, amidst a Pandemic that shut down manufacturers, suppliers, deliveries. They worked outdoors in masks in 90 plus degree weather. They designed and created a beautiful backyard oasis for us. SSG is an exceptional company. They do high quality, gorgeous work, and they stand behind their name. They are a FIVE star company!"
– Susan L. | Hampstead, NH | Google Review
"Expensive, but you get what you pay for. Good service and quality construction. Responsive to service requests. Provided guidance to me as a new pool owner throughout the process of designing, pricing, constructing, and equipping the pool."
– Steve Q. | Tyngsboro, MA | Google Review
"We just had a beautiful gunite pool and deck completed by South Shore Gunite pools and spa last summer. From the very first meeting at our home they understood what we were looking for and made us feel very comfortable with their ability to deliver a beautiful result. Their attention to detail and their ability to connect us with a wonderful landscape architect guided us through the planning and construction phases. Their work crew was well organized, efficient, pleasant and very respectful of our property. It was an amazing process to watch and an amazing result to enjoy. We would be happy to recommend them to anyone looking for a high quality pool company."
Louis Y. | Orleans, MA | Houzz Review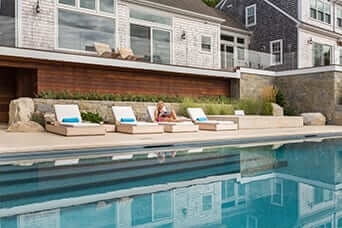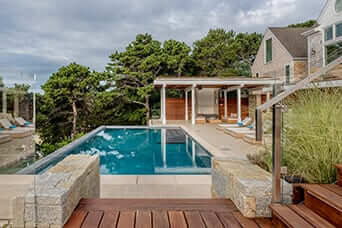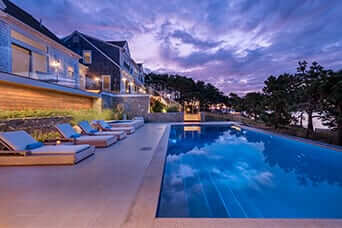 Our Reputation Is Well Known
We Have Been Featured On The Following
Serving Massachusetts, New Hampshire, Rhode Island, maine, And Vermont
Contact SSG Pools – New England's #1 Swimming Pool Builder
If you would like to schedule a consultation with our pool design team or you would like more information regarding new pool construction, pool renovation, pool service, water features or outdoor living spaces, please feel free to contact us directly by calling 800-649-8080.
*SSG exclusively provides gunite pool services. We do not build, repair or service vinyl liner or fiberglass pools.