COVID-19 (Coronavirus) Statement from SSG Pools
Massachusetts & New Hampshire's #1 Pool Builder
South Shore Gunite provides high-quality, worry-free, environmentally-responsible design, construction and maintenance services for all types of pools, spas and exotic water features.
We also proudly offer the best pool warranties in the industry. Our lifetime transferable warranty is unprecedented and prove the quality and durability of our pools. 
CUSTOMER SUCCESS STORIES
Real People. Real Projects. In-Depth Stories.
Want to know more about building a gunite swimming pool in your backyard? Hear first hand!
AWARD WINNING SWIMMING POOL BUILDER
Serving all of New England
At SSG Pools, we have reinvented the pool building process. We refuse to outsource a single phase of construction on our pools. Serving all of New England, we are a Massachusetts pool builder offering building and maintenance services in both the residential and commercial sectors. We are proudly the largest pool builder in New England. On an average day, we dispatch 180 employees and 80 trucks.
From our humble beginnings in 1975, our company has grown exponentially. We are now recognized as the 14th best pool builder in the nation and 1st in the New England region by Pool and Spa News.
WHAT PEOPLE ARE SAYING ABOUT US
Our Work Brings Great Reviews
"They build a gorgeous pool. The finished product is exactly what I wanted. I came very close to working with another vendor as I did not think I could afford a quality Gunite pool. I quickly made the switch as SSG worked with me to customize a pool within my price range. Best decision I made and best pool ever! I am very happy with my decision"
– Susan L. | Facebook Review
"These folks did a great job building and finishing our pool. We also needed them to move the equipment after adding an outbuilding, which they did on time and on budget and without complaining! The service people are friendly, punctual, and very professional. Overall, an excellent customer experience."
– Frank I. | Google Review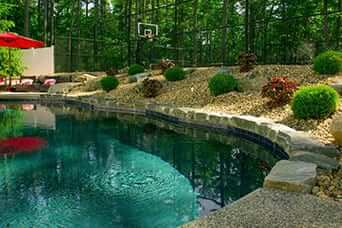 Quick Summary - How Much Does A Gunite Pool Cost? No two pools are created equal. If you have an understanding of what type of pool and features you'd like, contact a swimming pool company with experience and professionalism to visit the property. Once a designer...
read more YOUR BACKYARD OASIS AWAITS
Residential Pools & Spas
SSG offers complete pool design and construction services. All aspects of our design and construction are conducted by in-house employees. We have removed the uncertainty for homeowners about subcontractors and trust. Furthermore, having full control of the building process allows us to plan effectively and create the highest quality gunite swimming pool.
PRIVATE CLUBS, UNIVERSITIES and YMCAs
Commecial Projects
From YMCAs, boys and girls clubs, country clubs and universities with a specialty in quick offseason pool turnaround, South Shore Gunite brings the element of fun and design to commercial projects. Consistent quality, craftsmanship, and unsurpassable customer service for many years after the project have been the foundation for our company's continued success. We've satisfied commercial builders and operators all over the eastern seaboard.
TURN YOUR CURRENT BACKYARD INTO AN OASIS
Pool & Spa Renovations
If you are in need of pool renovations, you have come to the right place. Never before have there been so many options to improve the looks and efficiency of your existing swimming pool. In the last 10 years alone, more than a dozen new developments have made swimming pool ownership more enjoyable, less expensive and easier than ever.
SERVING Massachusetts, New Hampshire, 
Rhode Island 

& NE
Contact South Shore Gunite
If you would like to schedule a consultation with our pool design team or you would like more information regarding new pool construction, pool renovation, pool service, water features or outdoor living spaces from South Shore Gunite, please feel free to contact us directly by calling 800-649-8080 or complete the form below. (We do not sell your data or spam your inbox.)