SSG offers complete gunite swimming pool design and construction services. All aspects of our design and construction are conducted by in-house employees. We have removed the uncertainty for homeowners about subcontractors and re-introduced trust. We simplified the process, establishing one point of contact and one supporting team per project. While this may seem standard, it is very uncommon and most pool contractors hire the majority of their construction out to other companies. We saw that this created confusion for clients and often the pool contractor, leading to poorly built pools and a lack of accountability for any mistakes. 
With SSG, these headaches are a thing of the past. Having full control of the building process allows us to plan effectively and accurately to build the highest quality gunite swimming pool. How can quality be measured if all finished products look similar? Well-built pools withstand the test of time, that's why we offer a lifetime warranty on all of our pools.
What Makes Us Different?
Accountability. Warranty. Experience. Our strength starts with our in-house crews and licensed supervisors. Throughout each phase of your pool's construction, you receive the benefit of in-house quality control. There is not another pool builder in New England that builds a project from start to finish without subcontractors. In addition, every pool comes with our exclusive Partnership in Excellence warranty program, the strongest pool protection plan on the market. We offer a lifetime (yes, lifetime) transferable warranty on every pool's shell.  
New England Region
SSG has built quality gunite swimming pools in New England for over 40 years. We frequent everywhere from the northern border of New Hampshire to the southern shores of Rhode Island, and everywhere in between. Our North Billerica headquarters allows us to easily visit our clients in Massachusetts and Rhode Island. Meanwhile, our Amherst NH showroom allows us to work closely with customers in the granite state in addition to Maine and Vermont.
Think Outside The Rectangle
If you see something that you like on our website, mention it to our design team so that we can build the pool of your dreams. Also, keep in mind that our 3-D pool layout drawings will provide detailed visuals for your pool and deck layout. Shape and size are virtually unlimited. Therefore, we encourage you to think outside the box, or in our case, the rectangle. It's not unusual to see pool features such as waterfalls, water slides, sun shelves and lazy rivers incorporated into our projects.
WHAT PEOPLE ARE SAYING ABOUT US
Our Work Brings Great Reviews
"They build a gorgeous pool. The finished product is exactly what I wanted. I came very close to working with another vendor as I did not think I could afford a quality Gunite pool. I quickly made the switch as SSG worked with me to customize a pool within my price range. Best decision I made and best pool ever! I am very happy with my decision"
– Susan L. | Facebook Review
"These folks did a great job building and finishing our pool. We also needed them to move the equipment after adding an outbuilding, which they did on time and on budget and without complaining! The service people are friendly, punctual, and very professional. Overall, an excellent customer experience."
– Frank I. | Google Review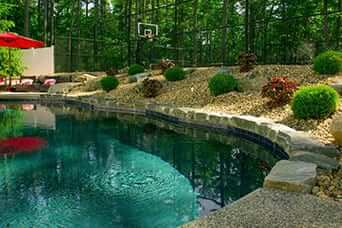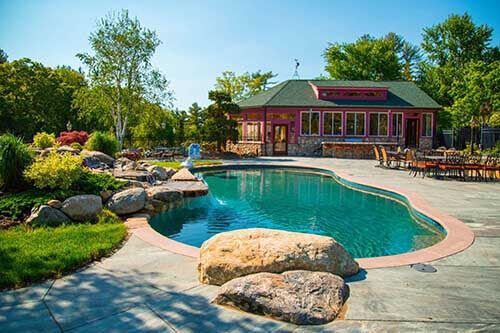 SERVING Massachusetts, New Hampshire, Rhode Island & NE
Contact South Shore Gunite
If you would like to schedule a consultation with our pool design team or you would like more information regarding new pool construction, pool renovation, pool service, water features or outdoor living spaces from South Shore Gunite, please feel free to contact us directly by calling 800-649-8080 or complete the form below.