Massachusetts' Preferred Decking and Hardscapes Contractor
A new deck can transform an average area into a beautiful sight. It also creates a wonderful space for family gatherings. In addition to pools, SSG has made it our mission to provide our clients with high-caliber decking and hardscape installation.
Decking and Hardscapes Styles
Furthermore, we offer a wide variety of decking and hardscape options. These choices include:
Exposed Aggregate concrete
Traditional broom finish
Wet-set pavers (with poured sub-decking)
Dry-set pavers
Retaining walls
Cabana pads
Equipment pads
Granite steps
Samples of our wet-set and dry-set paver options can be found on the Belgard website.
What Separates SSG From Other Decking and Hardscapes Contractors?
Uniquely, SSG has pioneered adhesion and bonding techniques for wet-set decking. This allows us to insure the highest quality and durability. Most importantly, our crews are train with the manufacturers that we source materials from. That way, our experts are always up to date with advanced mechanical and chemical adhesion products. In fact, our professionals were voted by Pool Spa and News as 9th in a nationwide ranking for staff management.
Lastly, there is hope if you own a deck and are unhappy. We also offer decking and hardscape renovations in addition to our deck installation.
Our crew's experience with gunite swimming pools and elaborate landscapes has allowed us to become Massachusetts' most knowledgeable and experienced decking and hardscapes contractor. After 40+ years in business, it is very rare that we encounter a situation that we have not seen before. If you're interested in a new deck or a renovation to your current deck, please contact us and we would be happy to provide a no-charge on-site consultation to run through your options.
New England's #1 Swimming Pool Builder 
South Shore Gunite provides high-quality, worry-free, environmentally-responsible design, construction and maintenance services for all types of pools, spas and exotic waterscapes.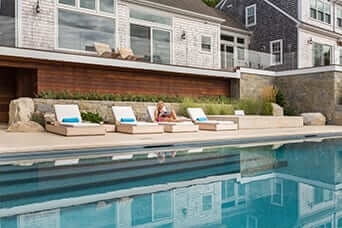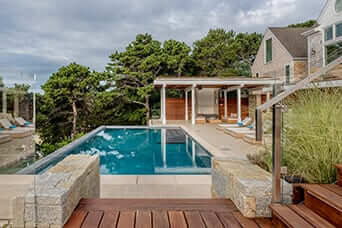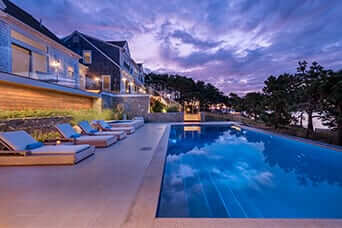 WHAT PEOPLE ARE SAYING ABOUT US
Our Work Brings Great Reviews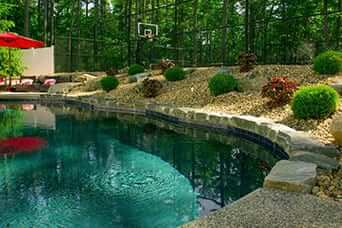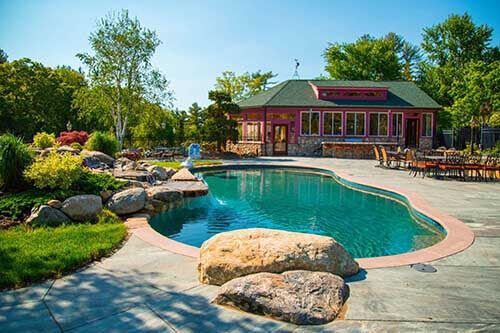 SERVING Massachusetts, New Hampshire, Rhode Island, maine and Vermont
Contact SSG Pools - New England's #1 Swimming Pool Builder
If you would like to schedule a consultation with our pool design team or you would like more information regarding new pool construction, pool renovation, pool service, water features or outdoor living spaces from South Shore Gunite, please feel free to contact us directly by calling 800-649-8080 or complete the form below.