Creative Ways to Hide Pool Equipment
Let's face it, pools are beautiful, but the equipment that keeps them running, not as much. Our pool equipment suppliers produce the most effective and durable products on the market. Although, an equipment's level of attractiveness does not rank very highly on its list of essential attributes. Therefore, many homeowners choose to hide pool equipment when we build a new gunite pool in their backyard.
Our team has seen countless ways of hiding pool equipment over the years. We've chosen a few of our favorites to help new pool owners be creative yet practical when placing their equipment. After all, there are many ways to hide your pool equipment. The decision largely depends upon what type of pool and backyard you have. Every pool must have its pool equipment accessible for possible maintenance issues or adjusting.
Integrated Landscape Approach
If your new pool is coming with an elaborate landscape design, it is possible to incorporate that design with pool equipment. This homeowner's plan used a tree and several other plants to disguise their pool equipment. Surely if someone was sitting in the position of our photographer, they might notice. Otherwise, the other angles hide the pool equipment completely.
Hidden In Plain Sight
Rather than hide pool equipment from the pool, this homeowner chose to build their landscape around it. As seen in the picture, the location is fully accessible. Although not fully hidden, this landscape does a nice job of reducing the noticeability of the pool equipment.
Safe and Sound Garage Style
If distance permits, there are many advantages to placing your pool equipment in a garage or another inside area. You will still need to winterize your equipment. However, there's a lower chance of the pool equipment being damaged by animals or weather. If there happens to be rain or since we're in New England, snow, it is much more convenient to check on equipment in your garage instead of trekking outdoors. As seen in the picture, pool equipment does not take up an exorbitant amount of space. If you choose to have your pool mainetained by a service company, such as Guarino's Pool Service, it is important to remember that the service technician will need access to the garage.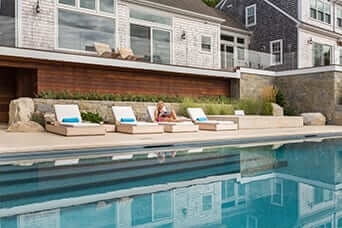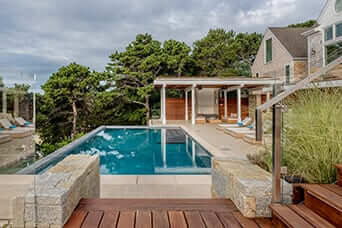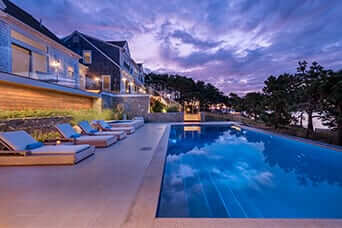 WHAT PEOPLE ARE SAYING ABOUT US
Our Work Brings Great Reviews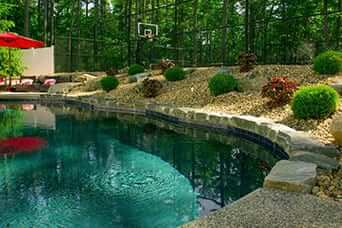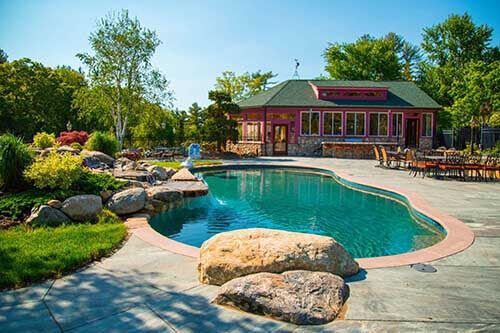 SERVING Massachusetts, New Hampshire, Rhode Island, maine and Vermont
Contact SSG Pools - New England's #1 Swimming Pool Builder
If you would like to schedule a consultation with our pool design team or you would like more information regarding new pool construction, pool renovation, pool service, water features or outdoor living spaces from South Shore Gunite, please feel free to contact us directly by calling 800-649-8080 or complete the form below.