How Much Does A Gunite Pool Cost?
Quick Summary – How Much Does A Gunite Pool Cost?
No two pools are created equal. If you have an understanding of what type of pool and features you'd like, contact a swimming pool company with experience and professionalism to visit the property. Once a designer can visualize the property and understands your desires and expectations, they will be able to provide a narrowed ballpark price. Most pool builders do not charge for onsite pool consultations, so it cannot hurt to meet with a designer. Even if you are not ready now, the designer can let you know everything you will need to get ready and a good estimate of the gunite pool price. For more information and a deeper analysis on the cost of a gunite pool, please keep reading.
What is the Price Range of a Gunite Pool?
The cost of a gunite pool warrants a specific answer to each homeowner. Many factors play a role in finding the price of a gunite pool, including the state of the property, size of the pool, features involved and a lot more options. Generally speaking, gunite pools range from $90,000 – 180,000. If a pool builder provides you with a price below $60,000, it should be a red flag about their quality and credibility. Still, this is a big range, right?
Trying to find the price of a pool is a lot like finding the price of a house. What kind of house would you like? How many bedrooms? What area? What style? How old or new would you like it to be built? All of these questions help narrow the range of how much your home will cost. A gunite pool is no different.
There are hundreds, if not thousands of preferences that help shape your pool. For example, if you are interested in an infinity pool, this will be much more expensive than your "average" pool. The best way to get a realistic ballpark on pricing is to speak with a pool designer. A consultation meeting helps bring out all of your ideas, some you may not have even known you had, and allows the designer to set some expectations and learn what you are looking for in a gunite pool. With so many variables it is important to remember that every pool is different.
Comparing Apples to Oranges
In New England, according to Pool Spa News, the average price for a gunite pool in 2019 was $78,340. Also in 2019, SSG's average price per pool was roughly $110,000. However, averages can be misleading. As we've said, every pool is different. Therefore, if a company like ourselves build a higher percentage of pools with additional features, our average price will be higher than a builder who builds exclusively simple pools. However, SSG is happy to build simple pools with the best warranty in the industry behind them.
The average price spent can also depend on what the company that you work with offers. SSG is better equipped to handle out of the ordinary requests that other pool companies may deem too difficult to build. For example, a swimming pool floor that raises and lowers to adjust pool depth and even become a dry patio when raised all the way. Many of our projects happen to have additional features which is why there are endless possibilities when SSG builds your project.
Balancing Comfort and Happiness When Buying
If you choose to build a gunite pool in your backyard, it's going to be there for a long time, especially if you choose SSG. Our pools are backed by a transferable lifetime warranty. Nonetheless, this is a big investment. It's human nature to weigh the worth of each feature against its price, but don't forget to also consider what will make you happy. It's a lot better to spend an extra 10-20% overall and be ecstatic every time that you look in your backyard rather than save a small percentage and always wish that you had an additional feature.
Searching for pool builders is like looking for a Dunkin Donuts in New England, they're everywhere. Unlike our region's favorite coffee shop, pool builders do not offer the same level of consistently. There are large degrees of separation between "good" builders and "bad" builders. So, what should you look for when searching for a company to build your new pool?
At the very least, we recommend that you search for pool builders who have been in the industry for more than 10 years, offers an extensive warranty program and have decent reviews. If a builder does not have these three basic characteristics, it should be a red flag warning. The most important thing to do is to find a reputable company that is licensed, insured and competent in creating a quality swimming pool, so you can be proud of your investment.
Where to Start
Before a designer can accurately quote a ballpark price for your pool, you must ask and answer a simple but important question. What do you want out of your swimming pool? The features that our designers will recommend for each scenario are vastly different and therefore have different prices. It all depends what you want. The best advice we can offer is to develop an understanding of what you want and then work with a designer to determine a realistic budget based on those desires.
Some clients are seeking a simple pool for exercise and relaxation, while others seek an entertainment oasis for their family and friends. This can change the cost from a basic starting point to ultimate luxury. It all depends on the features you want. You can spend anywhere from 50k to 150k and beyond if you really want to go all out. Installing a pool is all about understanding what you want and having a realistic budget based on those desires.
Questions to Ask Yourself
Do I want a hot tub (spa) ?
Do I want a custom patio and where should it be placed?
Would I like automation, such as an automatic cover or remote control operating system?
Would you like a custom interior finish? (Default is White)
What kind of fence do I want? (chain link, wood, vinyl)
How much landscaping will be needed?
Will I require financing? (SSG recommends Paramount Capital)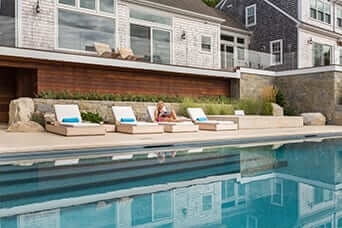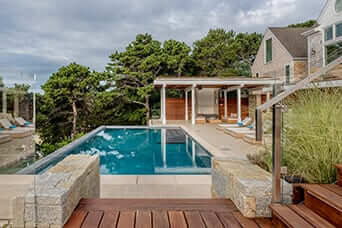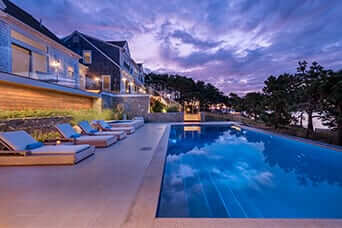 WHAT PEOPLE ARE SAYING ABOUT US
Our Work Brings Great Reviews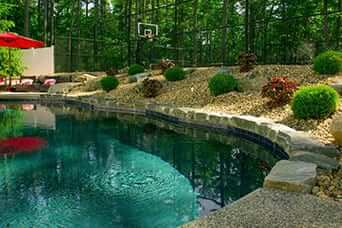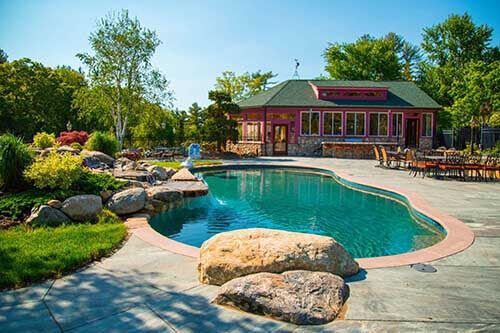 SERVING Massachusetts, New Hampshire, Rhode Island, maine and Vermont
Contact SSG Pools - New England's #1 Swimming Pool Builder
If you would like to schedule a consultation with our pool design team or you would like more information regarding new pool construction, pool renovation, pool service, water features or outdoor living spaces from South Shore Gunite, please feel free to contact us directly by calling 800-649-8080 or complete the form below.