How to Find the Right Landscape Designer
Adding a pool to your landscape is an exciting project that requires detailed planning. Hiring a landscape designer can help with these planning decisions and much more. A good designer will help you integrate your beautiful new pool with your backyard while being cognizant of necessary pool codes and your budget. Designers can also help manage the interaction between the landscape construction and the pool construction.
SSG Pools has been privileged to work with dozens of landscape design companies throughout New England. Through working with this professional for over 45 years and by speaking with our clients, we've learned what qualities separate highly-skilled landscape designers from the rest.
Ask Lots of Questions
Get to know potential landscape designers deeper than the surface level. Inquire about their general design approach and visual aesthetic to be sure they align with your own. Make sure that they follow a methodology of incorporation, not isolation, for every aspect of the property. During your communication and meeting, ask yourself whether or not you would enjoy working with the designer and if you trust their judgement.
Gauge Their Interest
Keep in mind, landscaper designers should be equally as interested in your project as you are in their services. When meeting with a landscape designer, they should be very interested in learning as much as possible about your lifestyle, your vision, how you plan to use the space now and, in the future, and even how you will approach maintenance. Generally speaking, a good choice for your property would be hands-on and not afraid to spend the necessary time to make you feel comfortable and well-informed.
Experience Matters
The term "experience" can mean lots of different measurements, but all are helpful to ask. How many years have you been in business? How many projects have you worked on? What type of education do you have? Essentially, make sure that the firm has established themselves as being a professional. Always make sure to look at their portfolio. To gather your own ideas about how backyards with pools can be designed, visit our photo gallery.
Understand Price
Request a sense of costs for projects with similar design elements as your anticipated project. It is important to avoid spending time and energy looking at design solutions that are outside of your realistic budget.
Reviews, More Ways Than One
Researching a landscaper's reputation is critical. By saying "more ways than one," we are referring to the source of reviews and the position of the reviewer. Quality landscape designers should have many reviews, from both clients and partners. When making your decision, seek a team player – that is, someone who is well-respected and is respectful to other contractors. Typically, platforms like Houzz and Google are great places to start your reputation tests. However, we also recommend asking neighbors and other word of mouth sources rather than just reading online.
Thank you to the many firms across New England that helped us assemble a comprehensive article for choosing the right landscape designer, including ZEN Associates, Seoane Landscape Design, Landscape Oasis, and Tish Landscape Design.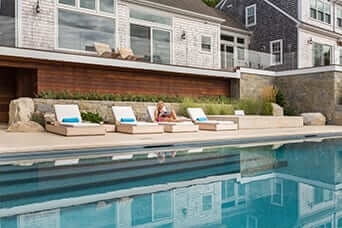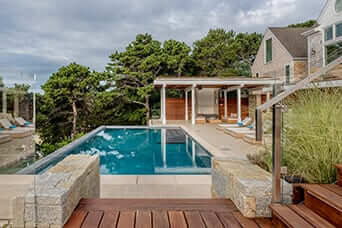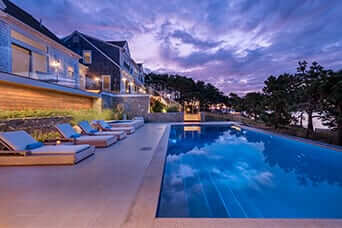 WHAT PEOPLE ARE SAYING ABOUT US
Our Work Brings Great Reviews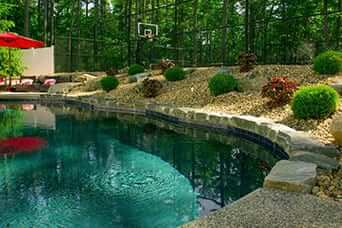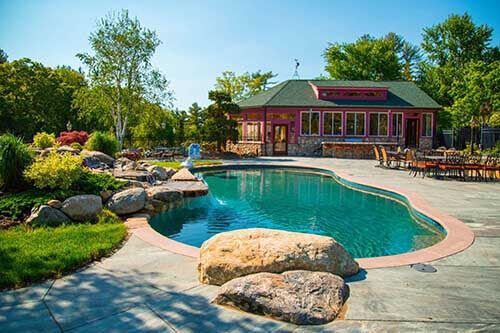 SERVING Massachusetts, New Hampshire, Rhode Island, maine and Vermont
Contact SSG Pools - New England's #1 Swimming Pool Builder
If you would like to schedule a consultation with our pool design team or you would like more information regarding new pool construction, pool renovation, pool service, water features or outdoor living spaces from South Shore Gunite, please feel free to contact us directly by calling 800-649-8080 or complete the form below.