The Best Pool Warranty in the Industry
No Other Builder Offers A Stronger, Longer Pool Protection Plan
Every pool builder claims that they build high quality swimming pools. So, how do you know what pools are truly built to last? If a pool is built correctly, it should last a lifetime. That's why we offer a lifetime warranty. Only SSG offers a pool protection plan worth talking about. Our Partnership in Excellence Pool Warranty is the longest and strongest warranty in the swimming pool industry.
Our commitment to customer satisfaction and our demand for quality has led us to the develop something unique.  SSG's revolutionary Partnership in Excellence Warranty program is the demonstration of how confident we are in our ability to build beautiful and structurally sound pools. We love sharing these new innovations in quality with our customers.
We stand behind every Partnership in Excellence swimming pool and our warranties last longer than any other pool builder in the industry. And this exclusive program is yours at no extra cost.
As you consider the purchase of a swimming pool, consider the quality advantages of owning an SSG pool with our exclusive pool protection warranty. After all, the pool that you choose is going to be in your backyard for a very long time. It will create memories, impact your property value, all while serving as a visual reminder of the type of investments that you make.  Your signature really does it all when you purchase a swimming pool from SSG Pools.
"South Shore Gunite built our pool in 1984. Since 2013, the the service team at South Shore Gunite has mainetained and cared for the pool weekly, for which I have been very grateful. They have been reliable, and respond to any of our needs. The family enjoys it immensely." 
– Lois Goodman
"SSG installed our pool 20 years again and has been servicing it ever since.  They are great to work with, quick to respond and have a great client service mindset. Having been a loyal customer for 20 years – I speak from experience when I say this is a good company and you won't regret working with them."
– Electra Govoni
"SSG built my pool 10 years ago and I have nothing but great things to say about them."
– Stephen Bodio
"We have been working collaboratively with South Shore Gunite for over 15 years. They're always professional and install a top-quality product. We highly recommend them to any of our clients who're looking to install a pool or spa." 
– Seoane Landscape Design
"Over the last 30 years we have built waterfalls into and Landscaped around too many SSG pools to count. I can say without hesitation that they among the finest gunite pool builders in New England." 
– Comak Bros Landscaping, Inc.
"We have worked with South Shore Gunite over the years for many of our residential installations. We design many complicated and streamlined projects that include water systems, pools and spas and SSG always delivers. They are professional, collaborative and their attention to detail never waivers. They are highly qualified in all aspects of what they do. We would recommend them without hesitation." 
– ZEN Associates, Inc.
"I have used South Shore over the last 10+ years on 2 pools I have, one at home the other at my vacation home. They are always on time and on budget. They repaired a major problem on one pool that other pool companies had been unable to fixed and they completely rebuilt a second pool starting in April and had the job completed and ready to swim by Memorial Day. I also use them for weekly service to make sure things run well. In New England, you get 3 months to really enjoy your pool, I would not trust anyone else." 
– Paul Donahue
"South Shore Gunite Pools & Spas, Inc. was one of our very first customers. Thirteen years later our relationship with SSG is very strong. As a manufacturer of swimming pool finishes, we look to only certify competent and qualified installation companies. SSG Pools & Spas always does a top-notch installation of our product."
– Wet Edge Technologies 
South Shore Gunite's 3-year Partnership in Excellence
Plumbing System
Jandy Manual Valves
Steel Structure (warranted against rust bleed through to the interior)
Electrical work (Contracted through SSG)
Pool Light Fixtures
Waterline tile
Coping/Brick
Plaster & Luna Quartz Interior Finish
Sta-Rite Filter
Starite Pump & motor
Sta-Rite heater
Surface skimmer
PCC2000 Water Valve
Diving board & base
Ladders & Rails
Electronic Controllers
Lifetime Warranty Common Questions & Answers
What is covered by South Shore Gunite's Partnership in Excellence?
All defects in material and workmanship, failure or malfunction of operations equipment or component items.
Who pays for warranty fixes?
You pay no extra cost for the 3-year warranty. South Shore Gunite will pay for all labor and material expenses for all replacement or repairs covered.
Is there a service fee?
There is no service or labor fee for warranted items. If an item is not covered, or out of the warranty period our normal service rate will apply.
How do I obtain Warranty Performance?
If your South Shore Gunite Pool ever needs repair or replacement of warranted items, simply call 978-250-6845 and service will be promptly provided.
What about the difference between this warranty coverage and the warranties in the owner's manual?
In the event of a difference, your South Shore Gunite Partnership in Excellence warranty will prevail.
What's Included: A Look Under the Hood
Lifetime Limited Warranty
PCC In-Floor Nozzles
Waterline Tile if Installed with SSG Cantilever Deck & Matrix & Stone Interior Finish
Matrix & Stone Interior Finish
Transferable Lifetime Warranty
Pool Structural Shell
3-Year Partnership in Excellence
Plumbing
Waterline Tile
Coping/Brick Pavers
Plaster & Luna Quartz Interior Finish
Filter Tank (10 Years)
Cartridges
Pump & Motor
Auto Chlorinator
Skimmer
Main Drain
VC150 Recirculation
PCC 2000 Water Valve
Light Fixtures
Diving Board & Base
Rail & Ladder
Electronic Controller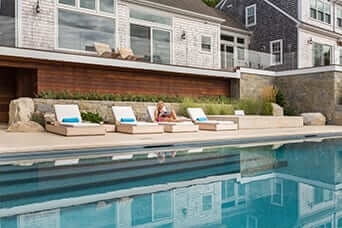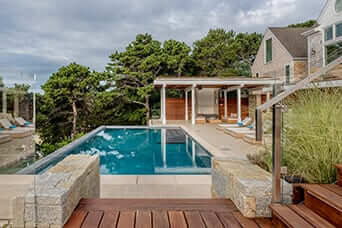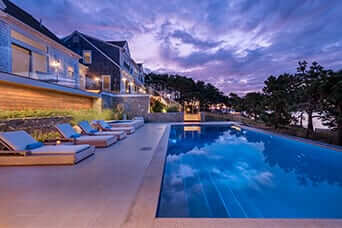 WHAT PEOPLE ARE SAYING ABOUT US
Our Work Brings Great Reviews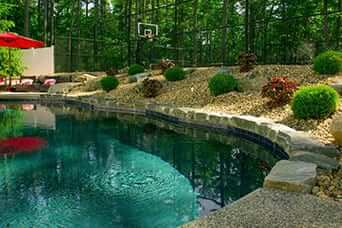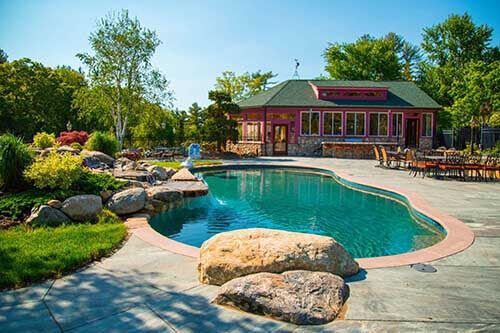 SERVING Massachusetts, New Hampshire, Rhode Island, maine and Vermont
Contact SSG Pools - New England's #1 Swimming Pool Builder
If you would like to schedule a consultation with our pool design team or you would like more information regarding new pool construction, pool renovation, pool service, water features or outdoor living spaces from South Shore Gunite, please feel free to contact us directly by calling 800-649-8080 or complete the form below.