The Benham's – Hingham Massachusetts Pool
"Don't take our word for it,
ask a Hingham MA pool owner themselves!"
Project Location: Hingham, MA
Project Year: 2018
1. What influenced you to have a pool built?

We decided to have a pool built because we wanted our backyard to have an outlet for recreation and relaxation. The swimming pool can provide an area for cardiovascular exercise as well as create a center for family gatherings.
2. What activities does your pool allow you to do?
My entire family loves the water. The pool allows us to entertain with friends.
3. Why did you choose SSG?

We did a lot of homework, we researched on the internet, talked with friends who used SSG as well as their experience with local companies. When we came to SSG, they were the best fit for our family. They had a great reputation and honestly, we had not heard any bad reviews from friends.
4. How was the design process?
We found the design process simple. We selected the pool and options we wanted through a series of categorized choices. They were able to show us visual options for our shapes and sizes and that made it very easy to decide.
5. What was your experience with the employees while building the pool?
I can't say enough about how pleased we were with all of the employees that arrived at our home during the building process. They were respectful, courteous and considerate people. Each crew held expertise in their area and they worked in a very timely and professional manner.
6. What was your experience with our supervisors and coordinators? 
My experience with SSG supervisors and coordinators went way above my expectations. They are easy to deal with and work with you the entire way. They were easy to get ahold of and were very reliable. Each step is carefully planned, and there is a checklist for the entire process. You always knew what was happening next and that kept the project on schedule. The entire pool from start to finish was done in less than two months.
7. What advice would you give to someone considering a pool for their home?
You should consider what's important to you about your pool and then rate everything based on importance. I highly recommend researching the difference between gunite, vinyl and fiberglass pools – then use that research to decide which one is the best fit for you and your family.
8. Describe SSG using 3 words.
Respectful. Professional. Trustworthy.
SSG would like to thank the Benham family for participating in our Customer Story series. Their project was a very exciting Hingham MA pool to build. We enjoy working with Massachusetts homeowners to build the backyard of their dreams. 
SSG Pools has been helping homeowners build summer memories for over 45 years. If you'd like to discuss becoming a Hingham MA pool owner, please let us know and we will have a designer get in touch with you right away. Outside of Hingham MA? No problem. We build gunite pools all throughout New England. Visit our full customer story library or look through some of our previous pool projects.
New England's #1 Swimming Pool Builder 
South Shore Gunite provides high-quality, worry-free, environmentally-responsible design, construction and maintenance services for all types of pools, spas and exotic waterscapes.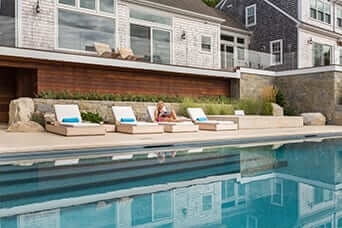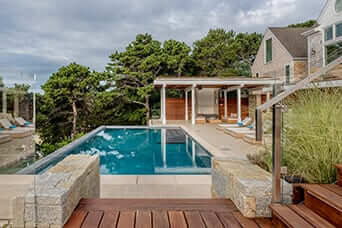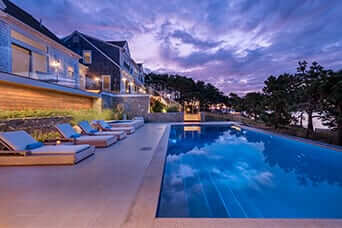 WHAT PEOPLE ARE SAYING ABOUT US
Our Work Brings Great Reviews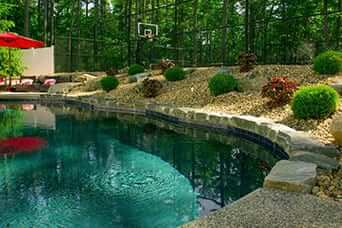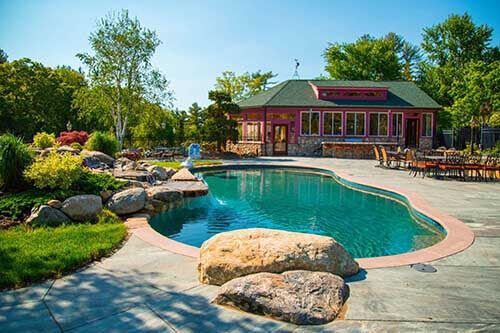 SERVING Massachusetts, New Hampshire, Rhode Island, maine and Vermont
Contact SSG Pools - New England's #1 Swimming Pool Builder
If you would like to schedule a consultation with our pool design team or you would like more information regarding new pool construction, pool renovation, pool service, water features or outdoor living spaces from South Shore Gunite, please feel free to contact us directly by calling 800-649-8080 or complete the form below.