The Vikstrom's – Bedford New Hampshire Pool
"Don't take our word for it,
ask a Bedford New Hampshire pool owner themselves!"
Project Location: Bedford, New Hampshire
Project Year: 2020
1. What influenced you to have a pool built?
The primary reason we built a pool was to be the meeting place for our teenagers and their friends.
2. What activities does your pool allow you to do?
We have had a blast with our pool. We swim anytime – early in the morning to midnight. It's so relaxing and fun. We even have a house wall that allows us to project movies that we watch from our deck or while in our pool at night.
3. Why did you choose SSG?
We chose SSG after doing a lot of homework. I spoke with different people asking who built their pools and it was often a smaller, local pool builder known to their builder and completed 5 or 10 years ago. Frankly, I've heard some horror stories and I could not find a consistent recommendation of one builder in my area so I began researching New England pool builders.
SSG fit the criteria I was looking for in a pool builder. A privately owned company that has been in business for decades. A company that would be concerned with mainetaining its excellent reputation. A solid client base with positive results. Established relationships with licensed professionals and/or employer relationship. Craftsmen in the trade. The ability and willingness to manage the entire project. And last, a company whose scope of work was much bigger than just my project.
We hired SSG's sister company for our pool maintenance (not required, but available if you don't want to mainetain your pool). The availability of this service demonstrated that they were confident in having a continued relationship with clients after the build.
4. How was the design process?
We knew we chose well when Dave came to our site after looking at the design drawings (post quote) and was giving direction on how it and the deck would be built based on our lot. Dave instructed that the deck and pool be raised up to the level of our driveway (more work for SSG) to ensure there would be no flooding problems. My husband is in commercial construction and SSG could have gone either way but the more work for them decision was the better one for us. Dave also opened the Amherst building that day for us so we could finalize our tiles and deck.
We have a different shape because we needed to comply with our town's set back rules. It was actually the best thing that could have happened because we love the form we ended up building and we have a larger deep end which is what we wanted.
I think a really important aspect of our SSG experience to mention is that we didn't have to worry and research the best pump, heater, etc. We would ask questions but the basics of quality product choices were already done for us.
I'm sure SSG is not the cheapest builder but their pricing is reflective of what they do and how well they do it. Get your quote early so you can get educated because the advertising from other pool builders is either cheap or bare bones and more $ is coming. That's not how I wanted to have this project go. This is truly a "you will get what you pay for" decision.
5. What was your experience with the employees while building the pool?
Our crews were really great. Building a pool is different than most renovations because it's all outdoors. The crew comes and goes as needed. Everyone was always pleasant and careful. Cardboard was put under trucks on our driveway and the work area was clean at the end of the day.  SSG's crew(s) is not a group of novices. They build pools. You can see that and if something needs to be adjusted they see it and know how to make it happen so the final shell and pool is of the best quality.
6. What was your experience with our supervisors and coordinators? 
SSG supervisors were available by phone, text or email and were often on site. The in-office coordinators/staff were professional, pleasant and always thorough. SSG's supervisors and coordinators know how to build pools. There are going to be small hiccups that come up in any project and this is why we chose a builder bigger than our project because of a higher level of expertise. What might be a problem for another company was just a decision and execution for SSG.
7. What advice would you give to someone considering a pool for their home?
My very first piece of advice would be to do your homework in the fall so that you are educated and have a good idea of what you want before you start your pool design. Think out of the box! Pools don't have to be a traditional shape. Also, call your town to find out limitations or other considerations early in the process.
Talk to people you know about their pools and ask them what they would have done differently and what they like best about their pool. For example, my friend told me she wished her deep end bench was longer because all of the teenagers hang out in the deep end and sit on it. We made a 10 ft bench in our deep end and it's awesome and used all of the time.
Don't underestimate the importance of the deck. It's so easy to get tunnel vision with just the pool but the deck is really important to the overall look. SSG had crews that did a beautiful job with our deck, walls and steps.
Remember to look at simple details, for example tile borders on steps or benches. These are not expensive and will really add punch to the look of the pool (again, came from asking friends!)
8. Describe SSG using 3 words.
Expert. Conscientious. Reliable. 
SSG would like to thank the Vikstrom family for participating in our Customer Story series. Their project was a very exciting Bedford New Hampshire pool to build. We enjoy working with New Hampshire homeowners to build the backyard of their dreams. 
SSG Pools has been helping homeowners build summer memories for over 45 years. If you'd like to discuss becoming a Bedford New Hampshire pool owner, please let us know and we will have a designer get in touch with you right away. Outside of Bedford New Hampshire? No problem. We build gunite pools all throughout New England. Visit our full customer story library or look through some of our previous pool projects.
New England's #1 Swimming Pool Builder 
South Shore Gunite provides high-quality, worry-free, environmentally-responsible design, construction and maintenance services for all types of pools, spas and exotic waterscapes.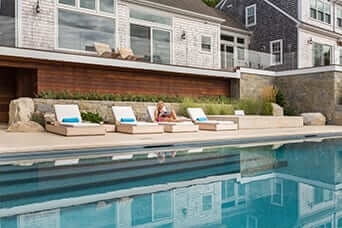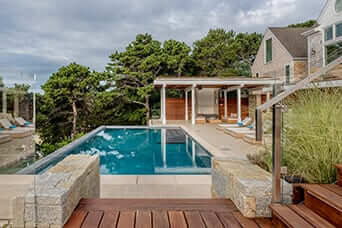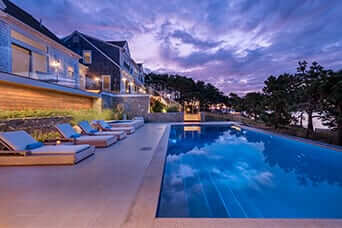 WHAT PEOPLE ARE SAYING ABOUT US
Our Work Brings Great Reviews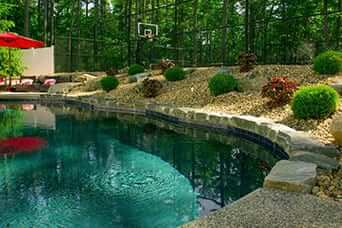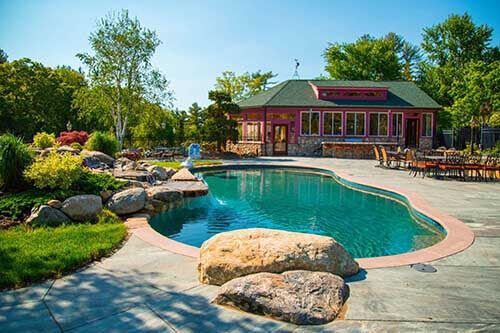 SERVING Massachusetts, New Hampshire, Rhode Island, maine and Vermont
Contact SSG Pools - New England's #1 Swimming Pool Builder
If you would like to schedule a consultation with our pool design team or you would like more information regarding new pool construction, pool renovation, pool service, water features or outdoor living spaces from South Shore Gunite, please feel free to contact us directly by calling 800-649-8080 or complete the form below.