"Meet the Schifone's pool. Don't take our word for it, ask a Hollis New Hampshire pool owner themselves!"
Project Location: Hollis, New Hampshire
Project Year: 2022
1. What influenced you to have a pool built?
We always wanted an inground pool, but when everything shut down during COVID it motivated us to turn our home into an oasis. We wanted to enjoy every second of our home, and we wanted our kids to love being home.

2. What activities does your pool allow you to do?
It allows us to fully enjoy Spring through Fall. When you have a pool, there's always an excuse to be out there enjoying it.
3. Why did you choose SSG?
We chose SSG because of your reviews, reputation, and Kevin (our SSG sales representative). We wanted a big company that could handle our project, and meet deadlines without sacrificing quality. In our minds, it was always young to be SSG, we didn't even want to call anyone else.

4. How was our design process?
It was exciting! I think that was my favorite part. You get to visually see your dreams turn into a reality. It was stress free, and the turnaround was quick!
5. What was your experience with our employees while building the pool?
We have never met an SSG employee we didn't like. Everyone was professional, friendly, and extremely hard working.
6. What was your experience with our supervisors and coordinators? 
Great! They were always easy to get a hold of, and any questions we had were always answered. They too were friendly, professional, and hard working.

7. What advice would you give to someone considering a pool for their home?
Enjoy the experience of creating something that's not there yet. In those final days of seeing the shape and colors coming together, it's truly magical.

8. Describe SSG using 3 words.
Talented. Professional. Quality. Honestly, it's hard to pick just 3 words.
SSG would like to thank the Schifone family for participating in our Customer Story series. Their project was a very exciting Hollis New Hampshire pool to build. We enjoy working with New Hampshire homeowners to build the backyard of their dreams. 
Hollis New Hampshire Pool History
SSG Pools has been helping homeowners build summer memories for over 45 years. If you'd like to discuss becoming a Hollis NH pool owner, please let us know and we will have a designer get in touch with you right away. Outside of Hollis, NH? No problem. We build gunite pools all throughout New England. Visit our full customer story library or look through some of our previous pool projects.
New England's #1 Swimming Pool Builder 
South Shore Gunite provides high-quality, worry-free, environmentally-responsible design, construction and maintenance services for all types of pools, spas and exotic waterscapes.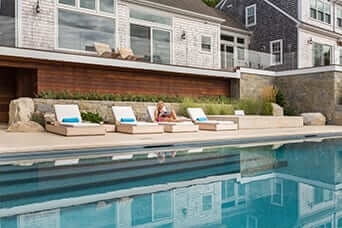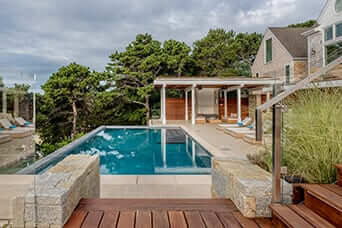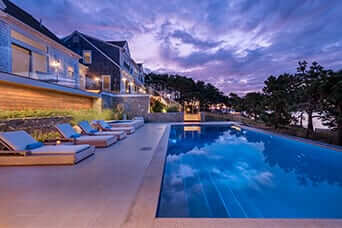 WHAT PEOPLE ARE SAYING ABOUT US
Our Work Brings Great Reviews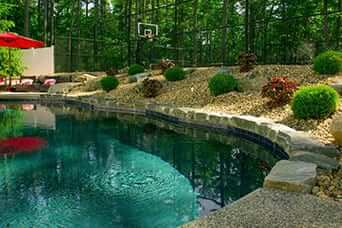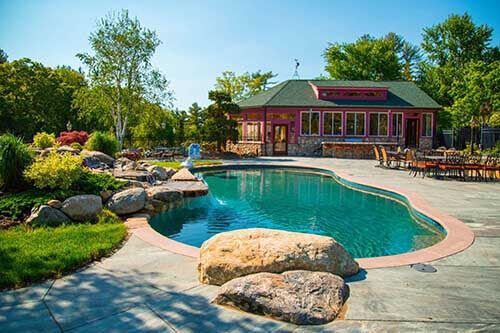 SERVING Massachusetts, New Hampshire, Rhode Island, maine and Vermont
Contact SSG Pools - New England's #1 Swimming Pool Builder
If you would like to schedule a consultation with our pool design team or you would like more information regarding new pool construction, pool renovation, pool service, water features or outdoor living spaces from South Shore Gunite, please feel free to contact us directly by calling 800-649-8080 or complete the form below.