Inground Pool 101 (What is a Gunite Pool + Gunite vs. Vinyl Differences)
An inground pool for your backyard is an important investment that requires research and commitment. Did you know that there are different types of inground pools? Once you have made the decision that you are ready for an inground pool in your backyard, there is another another choice to make. Before anything else, evaluate whether you want a gunite or vinyl inground pool.
What is a Gunite Pool?
Gunite is the same thing as concrete. It is basically identical material to the concrete in a house foundation or a concrete floor. The only real difference is the application process. Gunite is applied using compressed air to force the material down a hose. That material is then shot into place, instead of being poured, like your foundation. The high velocity of this application allows the gunite stick to whatever structure it is shot against. The characteristics of gunite make it the perfect way to build an inground pool. Gunite allows for very versatile shapes and designs without the use of extensive form work.
However, the complexity of the application makes it more difficult to get a good finish result. For this reason, not all gunite pool builders are created equal. As a result, every builder applying gunite should have a certification from the American Shotcrete Association. That stamp of approval demonstrates that they have undergone the correct training and know how to apply this product.
Other common questions include gunite pool pricing and how long gunite pools take to build. SSG has explained these topics and many more in our blogs.
Inground Pool Types: Gunite vs. Vinyl Liner
Gunite and vinyl liner are both viable inground pool options for your backyard. In some cases, these two types of pools can even look similar from a distance. Although, there are distinct differences between them. Gunite pools have many benefits over a vinyl liner pool. Vinyl liner pools come pre-designed in certain shapes and the options of a customization pool are limited.Gunite pools are built to last forever whereas a vinyl liner pool has an expiration date. The architectural options on a gunite pool are unlimited where the standard construction practices of a vinyl liner pool highly limit your options. Therefore, if you are considering a unique fit your backyard, you will likely prefer gunite pools.
Summary
Let's recap the key differences between these inground pool options. First, gunite pools allow for a higher level of customization. Second, gunite pools are more durable, so they last longer when built correctly. Lastly, vinyl liner pools are usually less expensive.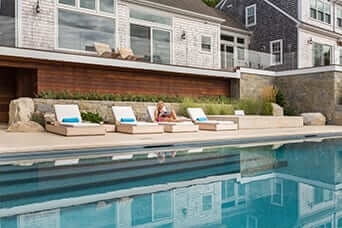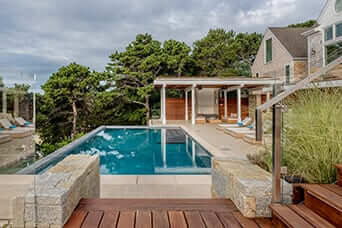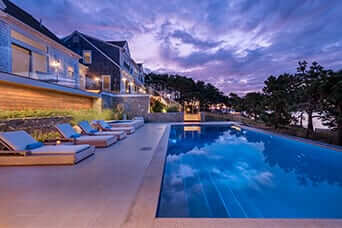 WHAT PEOPLE ARE SAYING ABOUT US
Our Work Brings Great Reviews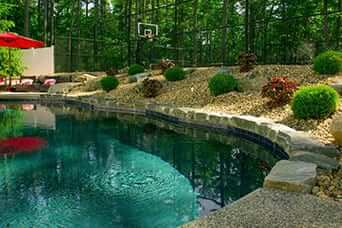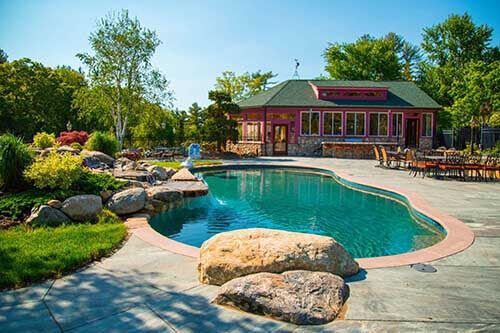 SERVING Massachusetts, New Hampshire, Rhode Island, maine and Vermont
Contact SSG Pools - New England's #1 Swimming Pool Builder
If you would like to schedule a consultation with our pool design team or you would like more information regarding new pool construction, pool renovation, pool service, water features or outdoor living spaces from South Shore Gunite, please feel free to contact us directly by calling 800-649-8080 or complete the form below.