A Pool Company's Idea of Marathon Monday
Today, April 15th, will mark the 123rd annual Boston Marathon. Runners will encounter a rainy Boston Marathon route this year that features a 26.2 mile journey to the finish line. If you're interested in following along with today's action, the Boston Athletic Association has an official app for you.
The race begins in Hopkinton and ends in the heart of Boston. For SSG, this is a route of familiarity. Our service crews navigate most of the famous Boston Marathon route every day while traveling to clean, maintain and enhance swimming pools across New England.
To show our support of today's event, we had some fun integrating our recent builds in the area with the long trek. Please note, this is not a full list of our pools in this area, but merely a spotlight of pools built in the past 5 years. You'll start to notice that if our customers happen to have Patriot's Day off from work, they may have a front row seat to the race. Unfortunately, we don't expect any runners to be taking a pit stop to go for a swim – but stranger things have happened.
Massachusetts & New Hampshire's #1 Gunite Pool Builder
South Shore Gunite provides high-quality, worry-free, environmentally-responsible design, construction and maintenance services for all types of pools, spas and exotic waterscapes.
WHAT PEOPLE ARE SAYING ABOUT US
Our Work Brings Great Reviews
"They build a gorgeous pool. The finished product is exactly what I wanted. I came very close to working with another vendor as I did not think I could afford a quality Gunite pool. I quickly made the switch as SSG worked with me to customize a pool within my price range. Best decision I made and best pool ever! I am very happy with my decision"
– Susan L. | Facebook Review
"These folks did a great job building and finishing our pool. We also needed them to move the equipment after adding an outbuilding, which they did on time and on budget and without complaining! The service people are friendly, punctual, and very professional. Overall, an excellent customer experience."
– Frank I. | Google Review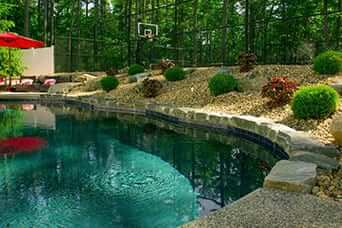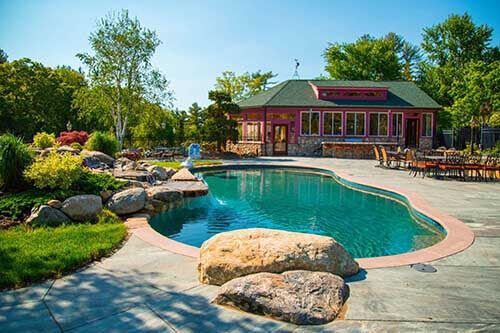 SERVING Massachusetts, New Hampshire, Rhode Island & NE
Contact South Shore Gunite
If you would like to schedule a consultation with our pool design team or you would like more information regarding new pool construction, pool renovation, pool service, water features or outdoor living spaces from South Shore Gunite, please feel free to contact us directly by calling 800-649-8080 or complete the form below.