The Driscoll's – Scituate Massachusetts Pool
"Don't take our word for it,
ask a Scituate MA pool owner themselves!"
Project Location: Scituate, MA
Project Year: 2018
1. What influenced you to have a pool built?

As a child I grew up with a pool in Andover, MA. I have such happy memories from my childhood – lazy days by the pool, learning to swim and dive, my dad throwing me from his shoulders. My husband and I discussed a pool (after shortly moving into our home) an antique home in Scituate Harbor with a double lot. Our side yard was relatively flat and we thought it would be ideal for a pool. We thought the pool would be perfect for our boys (who are growing up quickly) and great for entertaining and exercise. We want to be the hangout house 😉 Now our forever home has our dream pool!
2. What activities does your pool allow you to do?
Relax – it's a great space to feel like we're on vacation at home. Love sitting by the pool with a coffee or a cocktail. Watching the water is meditative.
Entertain – Our pool is a great backdrop for birthday parties (hosted my husband's 40th and son's 9th), gatherings with friends and family.
Exercise – we enjoy swimming laps in the pool for non-weight bearing exercise.
Escape the heat – It's a great place for us to cool off on those humid, hot summer days.
Play – races, hand-stand competitions, Marco Polo, water volleyball
3. Why did you choose SSG?

We chose SSG for a number of reasons.
Reputation and Experience – We felt good going with a company who has a wonderful track record and who has been in business for so long.
Brett – He met with us and we instantly liked him. He gave us so much great information and really went above and beyond – helping us with fencing for the dogs and troubleshoot some issues that came up (ex. moving our shed and when we hit some large rocks during the dig.
The lifetime warranty – this gave us peace of mind with such a large purchase.
Recommendations – our dentist (who didn't end up putting in a pool) recommended you. I also called about 8 or 9 references given by SSG Pools – all had glowing reports and still loved the pools built by SSG. It was great to hear even in 15-18 years the pools were still doing great.
4. How was the design process?
Amazing. We loved the free form design Brett came up with. He understood the vision we had for space.
5. What was your experience with the employees while building the pool?
Amazing. You hire such skilled artisans and professionals. Everyone was so great to our family, especially our kids, explaining the process.
6. What was your experience with our supervisors and coordinators? 
Great. They were always helpful when we needed something or had a question.
7. What advice would you give to someone considering a pool for their home?
Do your research and know exactly what you want in your pool. Also, you may want a bigger deck than expected for entertaining. We added to the deck size and so glad we did. I've written a blog post detailing more advice when considering putting in a pool.
8. Describe SSG using 3 words.
Amazing, Reliable, Skilled Artisans
SSG would like to thank the Driscoll family for participating in our Customer Story series. Their project was a very exciting Scituate MA pool to build. We enjoy working with Massachusetts homeowners to build the backyard of their dreams. 
SSG Pools has been helping homeowners build summer memories for over 45 years. If you'd like to discuss becoming a Scituate MA pool owner, please let us know and we will have a designer get in touch with you right away. Outside of Scituate MA? No problem. We build gunite pools all throughout New England. Visit our full customer story library or look through some of our previous pool projects.
New England's #1 Swimming Pool Builder 
South Shore Gunite provides high-quality, worry-free, environmentally-responsible design, construction and maintenance services for all types of pools, spas and exotic waterscapes.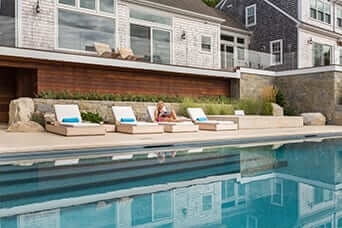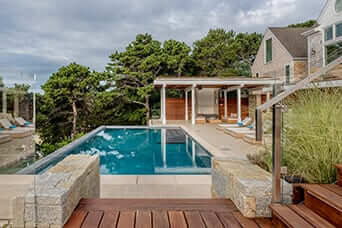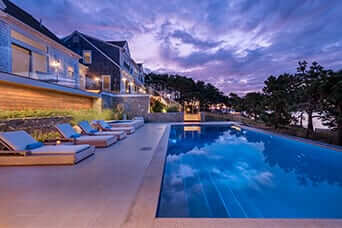 WHAT PEOPLE ARE SAYING ABOUT US
Our Work Brings Great Reviews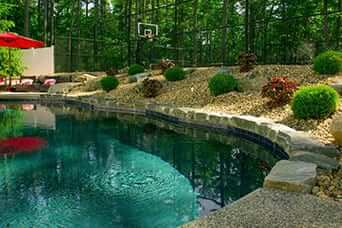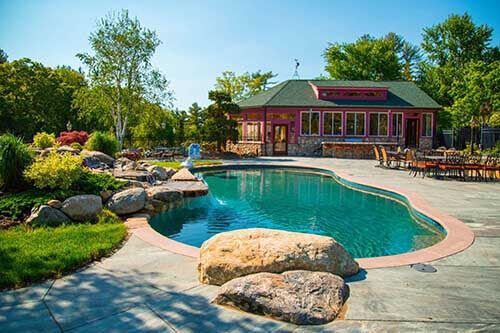 SERVING Massachusetts, New Hampshire, Rhode Island, maine and Vermont
Contact SSG Pools - New England's #1 Swimming Pool Builder
If you would like to schedule a consultation with our pool design team or you would like more information regarding new pool construction, pool renovation, pool service, water features or outdoor living spaces from South Shore Gunite, please feel free to contact us directly by calling 800-649-8080 or complete the form below.