Red Flags When Buying A Gunite Pool
Buying a gunite pool is a great way to improve your backyard. Choosing the right pool builder is the most important decision that you'll make surrounding your pool. Just like other industries, there are good builders, great builders, and builders that appear great at first and then don't turn out so well in the end. As a leader in our industry, we feel obligated to educate homeowners. We don't mind if you choose another builder or if you aren't even a New England resident. We want you to feel informed and prepared to ask the right questions when preparing for your pool.
A Few Things That Should Raise Red Flags…
A builder encourages you to pull a building permit yourself as a way to save money
You are persuaded to pay in full in order to receive a better price
The builder doesn't appear to have an office or physical location
A builder doesn't seem to have a substantial team behind she or he in case they get ill
You are quoted a timeline for less than 4 weeks
The price of the pool is under $30,000
Pulling Your Own Permit
In home improvement work there are ways that the customer and contractor can protect themselves. These rules help aid in the event of a default from either side during the project. Typically, practices in residential construction involve down payments and payments due at critical phases of construction. These payments typically cover the contractor's liabilities thus far and for any phase after the payment phases but before the next payment is due. The payments keep the contractor whole while not taking too much prematurely from the customer.
The homeowner is protected by the company's Home Improvement Contractor (HIC) registration. The HIC registration is a system setup by the state to support homeowners should a contractor blatantly wrong them. There is a fund set up to help out customers in need that were wronged. The HIC registration card is required by all towns during the permitting phase when buying a gunite pool. If a homeowner pulls their own permit they also forfeit their claims to an HIC program. If a contractor is asking the homeowner to pull their own permit it's typically because the contractor cannot pull one themselves.
There are several reasons why a builder would be unable to pull a permit. The builder could be behind in taxes, have wronged other homeowners, could be participating in criminal activity using a fake name, or they simply don't have the correct licenses. Some internet searches will show that pulling your own permit is a great way to save some money and still get a good pool. To offer an analogy, pulling your own permit is like slowing down on a freeway because you don't have a license or insurance and hoping that something bad doesn't happen. Things might be alright, but if they aren't, there is very little recourse for you as the homeowner.
SSG will never ask a homeowner to pull their own permit. However, there are circumstances where a homeowner may want to pull their own permit. For example, if conservation is involved, the process may be extended several months. In this case, it might be easier for the homeowner to pull their own permit. If a pool is just one of many projects that is being coordinated by a large homebuilder, it may also make sense to have that builder pull the permit. When SSG pulls a permit, our customers only pay for the permit itself, no markup involved.
If You Pay In Full You Will Get a Better Price
It may seem odd, but some pool builders will try to get the homeowner to pay for their pool in full before anything has been done or at the beginning excavation. In 2008, SSG got a number of calls from people with incomplete pools. These homeowners had big holes in their backyards and a pool contractor that appeared to have vanished. Upon further conversations, we learned that this pool builder collected full pool payments on the day of excavation. We heard from seven homeowners who had been deceived when buying a gunite pool.
Does the Builder Have an Office or Physical Location?
This is less of a red flag than pulling your own permit but sometimes they go hand in hand. Having the ability to install a swimming pool in New England with nothing but a pickup truck and a computer is possible. There are many subcontractors available that can do all the phases of pool construction for a builder. Many subcontractors do not want any interaction with customers and don't even have their phone numbers on their trucks for that reason. Distancing themselves from the customers allows them to proceed with sub par workmanship. Unfortunately, pool subcontractors see little negative side effects from sub par work.
If you cannot visit the office of a pool builder or they avoid the question, you may be working with someone whose assets are what you see when they pull in your driveway and nothing else. It's better to choose a builder that has tangible assets, such as an office, warehouse or fleet of trucks. Buildings and equipment show long-term commitment. This is especially important for trusting your pool builder to honor warranties.
Smaller contractors can have the best intentions and do everything right, but if a subcontractor wrongs them, they may not have the resources to correct it. The issue doesn't even have to be with your pool to cause issues with your project. Please perform due diligence when selecting your pool builder. Check on their reputation and call their referrals. Every builder has 2 or 3 referrals, great builders have 20 or more. We encourage homeowners to visit our office, something a pool builder should be excited about when asked.
Is the Company Substantial Enough to Run If the Owner Gets Sick?
Pool builders can often have offices but they may be very small and the owner might be the entire operations for both construction and business. Small businesses need to start somewhere, but as a homeowner, understand the risks that unforeseen circumstances may have unfortunate impacts on your pool being built. SSG has witnessed many pool builders go out of business because they had never formed a succession plan.
You may still choose to work with a builder who is heavily dependent on its owner. If so, make sure the payment schedule doesn't go above $10,000 (HIC fund limit). There is security in a larger company like SSG. Our team has planned ahead to have the right amount of people in place to handle big surprises.
The Builder Claims They Can Build a Gunite Pool in Under 4 Weeks?
You may have seen a gunite pool built in just a few days or just a few weeks online. In reality it's not good to build a concrete pool that fast. The maine reason is that a gunite structure is made out of concrete and concrete needs at least 3 weeks preferably 4 weeks to fully cure before any finishes are installed. The tile, coping, and interior finish should not be installed too quickly. Failing to adhere to time restrictions will compromise the quality of the pool.
Any product that sticks to concrete with an adhesive such as mortar, plaster, glue, paint, have directions that will include a waiting period between when the concrete was installed and when that product can be added onto the concrete. If a pool builder is installing products onto the concrete without taking the necessary precautions, the pool may be done quickly, but it will not last as long as if a builder waits for the proper curing time.
Buying a Gunite Pool for Under $30,000
You might have seen an advertisement for a gunite pool for $27,999 or another low price. Pool builders who advertise these deals deceive most folks. Although it's technically not false advertising, the truth to the matter is they are selling an incomplete pool. Many pool builders install just that, the pool, no patio or any of the construction that goes on around a pool to get it to be usable.
A very basic small pool would cost under $30,000 but the homeowner would then have to pay for a patio, backfill, electrical work and additional stone work themselves. In general, pool builders have been notorious for entering a bare minimum amount in a contract and then adding in more charges while the pool is being built and customers are essentially trapped.
SSG has been trying to put an end to this practice for many years. We sell a complete and high-quality package upfront to homeowners. While there can still be unforeseen items along the way such as subsurface conditions, SSG's designers incorporate all aspects of pool construction. Our team also educates the customer on possible surprise circumstances. Our team has developed an effective article on what buying a gunite pool realistically costs homeowners.
If a pool builder's quote does not show line items for including stone for under the pool or backfill material for around the pool, then something is wrong. Unless your excavation is all nice clean sand with no Boulders or large rocks then these items are necessary. If you live in Plymouth County or Cape Cod in Massachusetts, you might be in luck. This area's residents can sometimes forego these additions because the sand is a good drain and good backfill material. Though, the majority of excavated material in New England is rocky. This material is not good to put underneath a pool patio or the pool itself.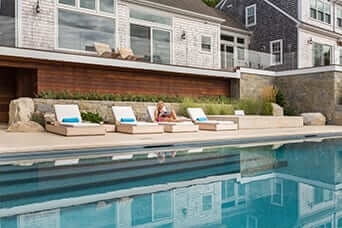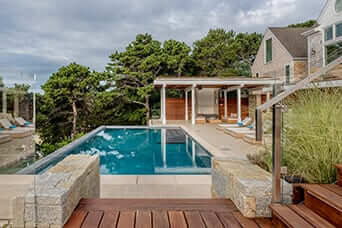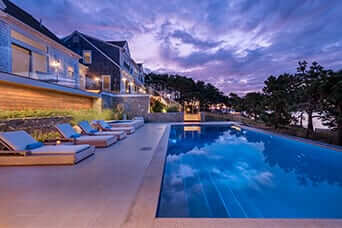 WHAT PEOPLE ARE SAYING ABOUT US
Our Work Brings Great Reviews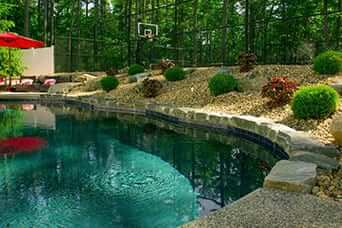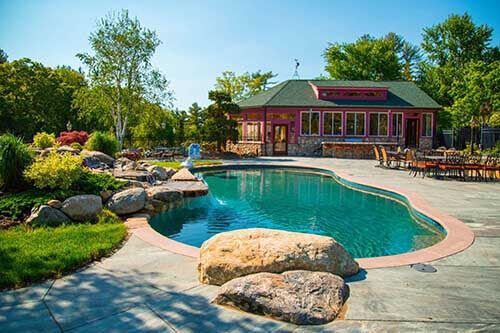 SERVING Massachusetts, New Hampshire, Rhode Island, maine and Vermont
Contact SSG Pools - New England's #1 Swimming Pool Builder
If you would like to schedule a consultation with our pool design team or you would like more information regarding new pool construction, pool renovation, pool service, water features or outdoor living spaces from South Shore Gunite, please feel free to contact us directly by calling 800-649-8080 or complete the form below.