The Best Time to Build a Gunite Pool in New England
If you're considering a gunite pool for your backyard, you're also probably wondering what the best time of year is to have that pool built. The best time to build a gunite pool is a matter of preference. This blog helps describe the differences between each New England season. While there is no "correct" time to build the pool, there certainly is a "fastest" season for installation.
Ruling Out Winter
The timing of construction plays a big role how long pools take to build in New England. If you've lived in this region for more than a year, you likely know that most construction is nearly impossible in the winter. Normal pool excavations typically cannot be performed between mid-December and mid-March. If the groundhog doesn't see his shadow, excavations can sometimes resume in early-March but SSG has seen years where excavations were not possible to start until mid-April. By process of elimination, that leaves three seasons possible for pool construction.
April Construction Brings May Swimming
Spring is the busiest season for pool builders. Out of the available seasons, spring is also the most difficult time of year to build a pool. Spring time typically involves rain, and therefore the ground is saturated with water. Rain and groundwater can create a wet yard which makes normal processes take more time. Given these factors, a little more patience is required to have springtime pool construction.
Minimize Construction by Building in the Summer
Swimming pool contractor's schedules are lighter after July 4th. The fastest time to build a swimming pool is the middle of the summer. Most homeowners don't want their backyards under construction during the summer months. However, if you want to get a pool built as quickly as possible, summer is the time to do it. SSG has built simple pools in as little as 5 weeks in this time frame. The average build time is between 7-10 weeks.
If a homeowner wants to take advantage of this fast period, they must prepare prior to the summer. The planning process should start around May to capitalize on summer construction time. Homeowners should even consider starting earlier if they anticipate permitting issues.
Fall Construction Takes the Pressure Off a Pool Build
The best time to start for pool construction length is in September. The Fall season is busier than summer, but it will help ensure that the pool is ready for the following summer. All of the difficult and unknown parts of the construction process can be completed while the ground is usually drier and the weather is more favorable. If starting construction in early September, even complicated projects can typically be completed for the following summer. The pool can be installed with all of the necessary plumbing and electrical prior to snowfall and freezing temperatures. SSG researches and implements procedures to keep unfinished pools safe during the winter months. Then, the patio and finishing touches can be installed in the early springtime.
Summary
We hope that this blog has been helpful for planning your future pool. Our designers are always available to layout design, pricing and timeline planning with New England homeowners. Whether you choose SSG or another reputable company to build your pool, please read through our blog on red flags from gunite pool builders to ensure you make a good choice.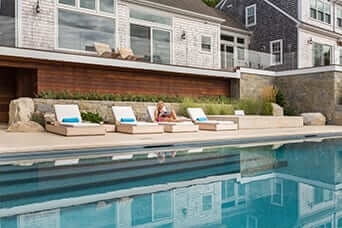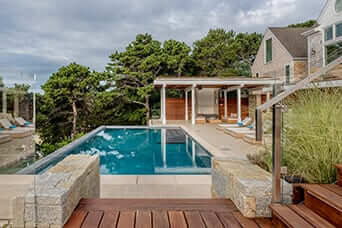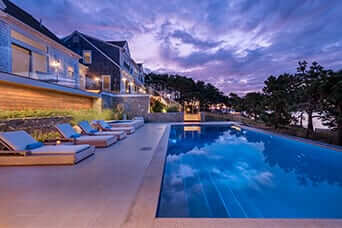 WHAT PEOPLE ARE SAYING ABOUT US
Our Work Brings Great Reviews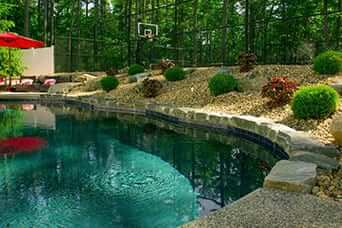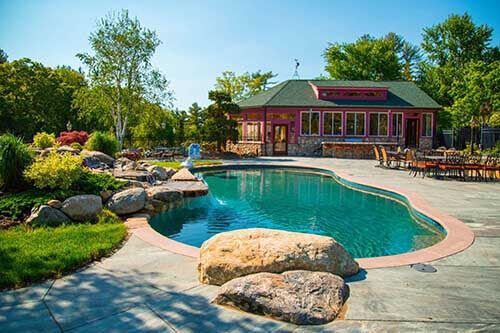 SERVING Massachusetts, New Hampshire, Rhode Island, maine and Vermont
Contact SSG Pools - New England's #1 Swimming Pool Builder
If you would like to schedule a consultation with our pool design team or you would like more information regarding new pool construction, pool renovation, pool service, water features or outdoor living spaces from South Shore Gunite, please feel free to contact us directly by calling 800-649-8080 or complete the form below.