"Meet the Kennerson's pool. Don't take our word for it, ask a Boxford MA pool owner themselves!"
Project Location: Boxford, Massachusetts
Project Year: 2021
1. What influenced you to have a pool built?
The pandemic and my mother-in-law. Once COVID hit we knew our space had value (our lot is on over 3 acres). We wanted to create our own little Oasis. It started with a patio idea and morphed into a pool when my mother-in-law questioned, "why aren't you getting a pool" on a 90 degree summer day. We were dialing SSG the next day.
2. What activities does your pool allow you to do?
Our 3 year-old daughter is learning to swim. We host group swim lessons every Monday with her friends. The sun deck that SSG installed is also a great space for her to play with her pool toys. The original plan was to install some ledge loungers for mom and dad but our daughter changed that quickly. We went with a bigger shallow end to accommodate pool games (soon to come volleyball net and basketball hoop).
3. Why did you choose SSG?
Reputation. I called a reference from my hometown that installed a pool from SSG a few years back. You would have thought that he was on the sales team. Personally we have heard many bad stories about issues with pool installations from friends and family. We did not want to risk that headache for such a big investment. Additionally, we liked that SSG does not outsource many of their jobs. We knew this would provide a smooth and fast build out which proved correct.
4. How was the design process?
Great. We had to get creative since our leach field was in the middle of our yard. Kevin Ransom designed a bigger pool than we expected that curved around the offset limits from the leach field. He also helped us maximize the shallow end while still incorporating a deep end to our pool. And the sundeck idea was a great one. Looking back on it we may have even gone a bit bigger with the sundeck.
5. What was your experience with the employees while building the pool?
All professionals. Never missed an appointment and each foreman was personable and spent time explaining every phase of the project. I was surprised in how good the service was – particularly given how many crews and departments go into building a pool from start to finish. 
6. What was your experience with our supervisors and coordinators? 
Incredibly responsive and willing to explain the details of the project. Their crews were all professional – you could tell there was a culture established that drove this high level of professional service from top to bottom.
7. What advice would you give to someone considering a pool for their home?
Focus more on value and less on cost.
8. Describe SSG using 3 words.
Professional. Quality. Trusted.
This backyard was a collaboration project with Pavers by Pace in Pelham, New Hampshire. Pavers by Pace built the deck that surrounds this pool. 
Boxford MA Pool History
SSG Pools has been helping homeowners build summer memories for over 45 years. If you'd like to discuss becoming a Boxford MA pool owner, please let us know and we will have a designer get in touch with you right away. Outside of Boxford, MA? No problem. We build gunite pools all throughout New England. Visit our full customer story library or look through some of our previous pool projects.
SSG would like to thank the Kennerson family for participating in our Customer Story series. Their project was a very exciting Boxford MA pool to build. We enjoy working with Massachusetts homeowners to build the backyard of their dreams. 
New England's #1 Swimming Pool Builder 
South Shore Gunite provides high-quality, worry-free, environmentally-responsible design, construction and maintenance services for all types of pools, spas and exotic waterscapes.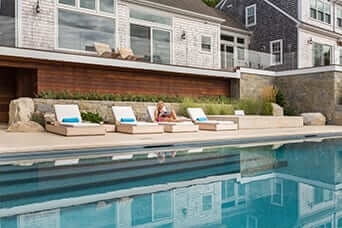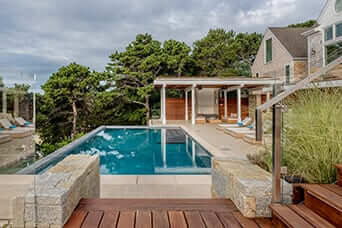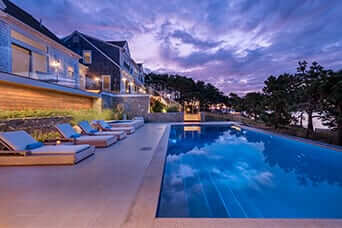 WHAT PEOPLE ARE SAYING ABOUT US
Our Work Brings Great Reviews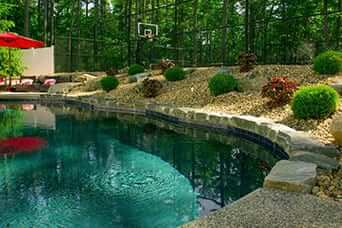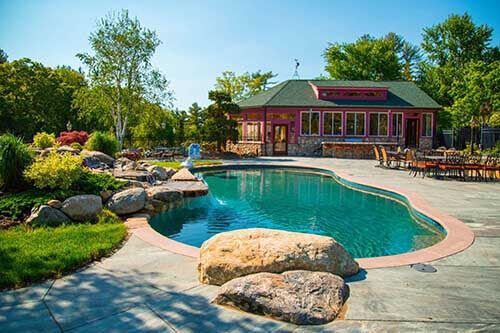 SERVING Massachusetts, New Hampshire, Rhode Island, maine and Vermont
Contact SSG Pools - New England's #1 Swimming Pool Builder
If you would like to schedule a consultation with our pool design team or you would like more information regarding new pool construction, pool renovation, pool service, water features or outdoor living spaces from South Shore Gunite, please feel free to contact us directly by calling 800-649-8080 or complete the form below.